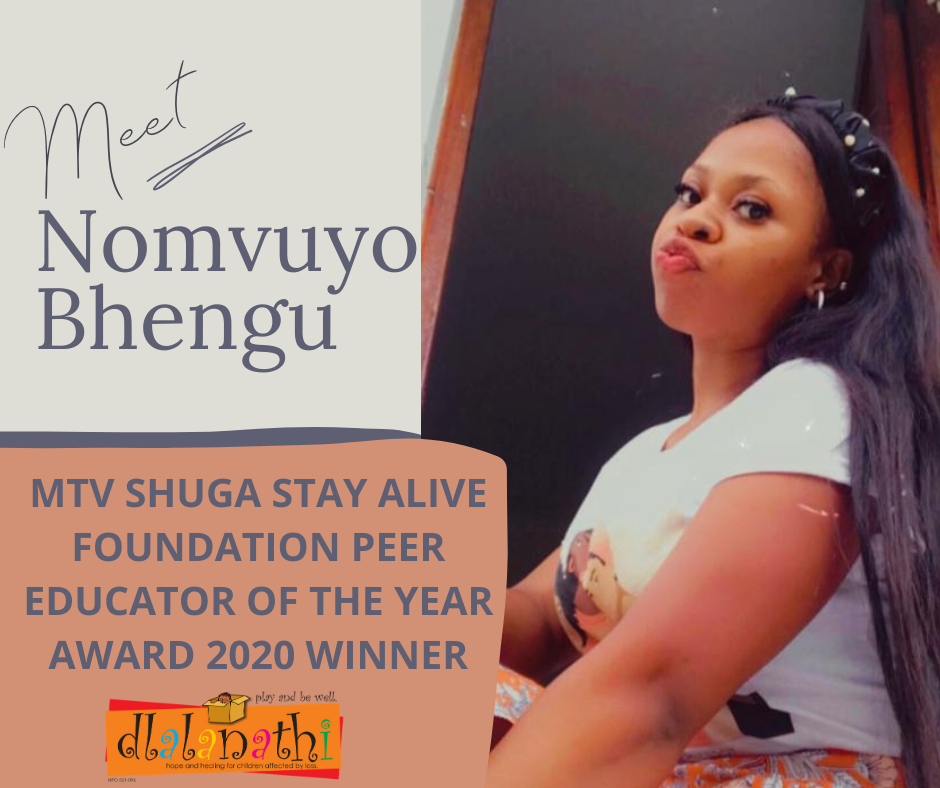 Nomvuyo has participated in our youth process since 2017 as part of a youth group known as Silwela 'inguquko youth group based in Sweetwaters. Nomvuyo's drive and passion towards positively influencing young people in her community saw her not only touching and influencing lives in her own community but also in different areas in and around Pietermaritzburg as a whole.
Due to her passion and natural ability to work with youth and children, Nomvuyo was invited to be one of the MTV SHUGA STAY ALIVE FOUNDATION Peer educator; and with no hesitation she accepted the invitation.
The role of the Peer Educators was to share and facilitate SRHR (Sexual Reproductive Health and Rights) based themes in the form of short video clips. These clips were shared via their FACEBOOK pages and they were tasked with facilitating online conversations themes such as RAPE, HIV, ABORTION, TEEN PREGNANCY AND SEXUALITY.
The aim of this process was not only to reach as many youth as possible, but also to provide a safe space for youth to engage about key topics in their lives especially during these COVID-19 times.
Nomvuyo did not just meet the required numbers but she excelled. With her passion, quality facilitation skills and the ability to relate with young people; Nomvuyo was able to create a safe space for her Facebook followers and brought about a positive influence to youth.
In addition, Nomvuyo's passionate efforts did not only see her being nominated for the MTV SHUGA STAY ALIVE FOUNDATION PEER EDUCATOR OF THE YEAR AWARD in South Africa but she won the award. We are immensely proud of Nomvuyo!!
In conclusion, it has been an absolute to have received the opportunity to work with a young person who is not only passionate about her progress but also that of the young people around her.