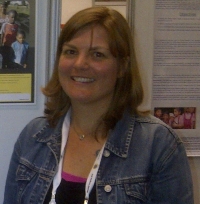 Linda Smallbones:
Development Manager
What is a "typical" working day for you?
I spend most of my days in the office, reading, researching, thinking, talking to people and attempting to be creative. Some days I go into the field and I love those opportunities.
What has been a memorable moment in your work in the past month?
Gugu and I travelled to Joburg to present some of our work at the Couch and Country conference for the South African Psychoanalytic Confederation. A great time of learning from professionals in the mental health field who are passionate about holistic wellness. A big takeaway for me was realising, again, that we as NGOs and community workers have so much to offer our country in terms of strengthening mental health. This was incredibly affirming.
What is one challenge you have to contend with in your role?
The gap between the office and the field is sometimes big! By this I mean that what I (and the team), dream, create and design in the office doesn't always necessarily work well in the community. And sometimes the feedback loop around different aspects doesn't get closed and therefore I am not always aware of what's not working, or what is working fantastically well! (Which I love to celebrate!)
What motivated you to go into this work?
I am a social worker by training, with 13 years' experience "in the field" - a mix of community, family and group work. My role at dlalanathi pulls together my years of experience in diverse settings and allows me to use creativity that I find stimulating and fun. dlalanathi's approach is beautifully unique and incredibly respectful of indigenous knowledge and strengths, and is grounded in relationships. When you read or hear people's stories of what has changed for them, you realise that this works. I love being part of this philosophy and practice because it's authentic and exciting to me personally and professionally.
What keeps you going?
Passion for people.
What three words describe you when you're not at work?
Outdoorsy, family-orientated, introvert.